Profile Products Encourages Contractors to 'Spray It, Don't Spread It' With ProGanics™ Rebate Program
August 30, 2016

Profile Products is offering $60 per ton in rebates to contractors that successfully convert a project specified for topsoil or compost over to Profile® ProGanics™ Biotic SoilMedia™.
In addition to the rebate, contractors can save time and money by using Profile's hydraulically applied ProGanics rather than the more time consuming process of trucking in more expensive materials. One pass is all it takes to lay down an optimized growing media designed to promote faster growing, denser vegetation.
"We are excited to bring this emerging technology to the market because they will add significant value to contractors and project owners," said Adam Dibble, CESSWI, senior marketing and erosion control brand manager for Profile Products. "By utilizing our Free Soil testing and product selection program along with ProGanics and our industry-leading erosion control products, contractors are receiving faster results on projects and seeing cost and time savings of greater than 30% in most cases."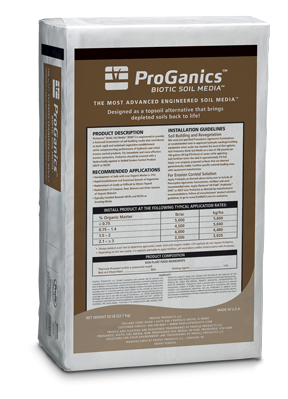 ProGanics provides an abundant source of organic material and soil-building components to quickly modify soil chemistry and kick-start the growth establishment. Just two tankloads of ProGanics provides as much organic material and soil-building components as 36 truckloads of topsoil. ProGanics is an engineered solution ensuring every bag is consistent so you don't have to worry about inconsistencies often found in compost or transported topsoil.
Not only is ProGanics a cost-effective option, it's the superior solution for challenging projects, such as steep slopes, difficult access areas, or anywhere soils are too wet or frozen to easily dig, transport and spread traditional topsoil or compost products.
ProGanics is part of Profile Products' "Five Fundamentals" holistic approach to erosion control and sustainable vegetation. Knowing that no two projects are alike, Profile has created these five steps to maximize growth and accelerate root development to ensure project success.
For complete details on this promotion and to learn more about ProGanics, simply visit profileproducts.com/sprayproganics.
On this site, contractors can find useful tools such as the ProGanics Cost and Savings Calculator to compute how much can be saved by switching from topsoil or compost.
To learn more about the products and innovative solutions Profile Products' distributors represent, visit ProfileEVS.com.
For more information, please contact Allen Forkner, Swanson Russell, 402-437-6428, allenf@swansonrussell.com.