Hydraulic Erosion Control Products (HECPs)
Utilize the speed and cost-savings of hydraulically applied mulches.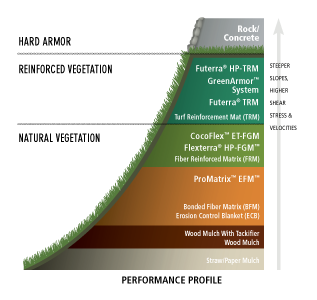 Profile® has a long history of leading innovation in the development of reinforced fiber mulch used as HECPs. Through Green Design Engineering™, our unique combination of erosion and sediment control engineering excellence and agronomic expertise has dramatically expanded the application of natural vegetation as an effective erosion control solution. Let us help you determine which products are the best options for your site and circumstances:
Hydraulic Erosion Control Categories
Advanced Fiber Matrices
Profile offers Reinforced Fiber Matrices that provide outstanding erosion control and vegetative establishment to meet a broad range of site and budget needs.
Read More
Flexible Growth Medium (FGM)

A Flexible Growth Medium™ (FGM™) offers you the greatest assurance of success, especially when site conditions are extreme and design safety is critical.
Read More
Featured Products
Flexterra High Performance-Flexible Growth Medium
Featured

Patented Flexterra® High Performance-Flexible Growth Medium™ (HP-FGM™)—proven to surpass all hydraulically applied mulch products and turf establishment blankets.
Read More
ProMatrix™ Engineered Fiber Matrix (EFM)
Featured

Get superior performance at a competitive price and a higher loading rate with ProMatrix™.
Read More
The Best Granular Mulch to Quickly and Easily Establish Vegetation.

Ideal for small hydroseeders or broadcast application, Seed Aide CoverGrow helps grass start fast.
Read More