Profile Products Recognizes Outstanding Distributors at Annual Awards
March 17, 2016
Profile Products honored the outstanding work of several of its distributors at its awards banquet Feb. 18, held during the annual International Erosion Control Association Conference in San Antonio, Texas.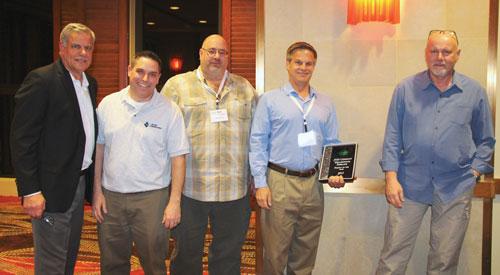 "Our group of distributors is always on the forefront of innovative projects and business solutions, and we're honored to be a part of their successes and recognize their accomplishments," said Wally Butman, vice president of sales for Profile Products.
JMD Company was one two distributors selected for Profile's 2015 "Project of the Year." JMD Company worked with contractors Precision Pipeline and Indianhead Pipeline Services to stabilize the 70-mile linear Millennium Pipeline project through the mountains of West Virginia.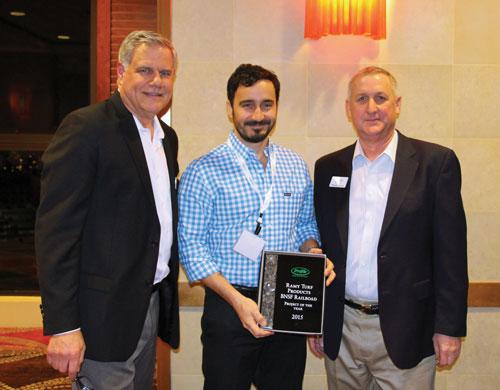 Ramy Turf Products also received a "Project of the Year" award for its work with contractor Sherbrooke Turf in vegetating the right-of-ways around 40 miles of newly laid railroad track in North Dakota.
Other finalists for the award included Pennington Seed for repair work of depleted soil at Plant Scherer Power Plant in Georgia, and Team EJP for its runway repair work at JFK Airport in New York.
The individuals and companies awarded for outstanding sales performance included:
Construction ECO Services was given the 2015 "Ground Assault" Award for submitting the most Profile Soil Solutions (PS3) soil test analysis requests.
Triton Environmental won the 2015 "In The Fast Lane" Award for generating tremendous growth and selling a variety of Profile Products. They also received the honor in 2014.
S&S Seeds was honored as the 2015 "President's Club" winner for sustaining excellence and growth over a period of years, while promoting Profile's diverse product categories.
PGG Wrightson Turf, based in New Zealand and Australia, was named the 2015 "International Distributor of the Year" for four consecutive years of strong sales growth, expansion into new markets and product segments, and a strong educational focus.
Ramy Turf Products was given the 2015 "Top Gun" honor, awarded to the distributor who achieved the highest total sales of Engineered Specified Products.
The 2015 "All Pro Team" winners, consisted of sales professionals who exemplified outstanding promotion and sales of Profile Engineered and Specified Products (ESPs) included: Daryle Bennett, Granite Seed; Tony Blatnick, JMD Company; Grant Bunting, PGG Wrightson; Scott Fisher, Pennington Seed; Doug Graham, S&S Seeds; Brent Hardy, ACF West; Joe Johnson, PGG Wrightson; Steve Krehbiel, Quick Supply; Denny Long, JMD Company; Amy Matthews, Pennington Seed; Doug McCluskey, EJ Prescott; Jack Mulligan, Green Resource; John Parenza, Quick Supply; Mike Ramy, Ramy Turf Products; Jim Rudis, Valley Green; Dan Salsinger, Ero-Tex/Hanes; Jamie Van Fleet, Pennington Seed; and Rick Williams, Pennington Seed.
"Our awards may acknowledge individual companies, but we also want to salute and thank our entire distributor network. We're fortunate to partner with the most exceptional distributors in the industry," said Butman.
Profile's support of their distribution was recently expanded with the acquisition of Central Fibers Erosion Control and Landfill business, providing additional manufacturing and warehouse capacity in Ohio. The move was made shortly after Profile Products was acquired by an investment company bullish on Profile's growth in the market.
To learn more about the products and innovative solutions Profile Products' distributors represent, visit ProfileEVS.com.
For more information, please contact Allen Forkner, Swanson Russell, 402-437-6428, allenf@swansonrussell.com.