Free Soil Test
Take advantage of a FREE Soil Test from ProfilePS3.com
Take advantage of this offer today.
Go to Profile Soil Solutions Software (PS3) and login to your account (or register for your free account here).
Go to the "Projects" page and click on the "Add Project" button.
Complete project form and be sure to check "Yes" next to the "Soil Test" button.
You will see a link to ProfileSoilTestInputForm (pdf file). This form includes specific instructions for proper sampling as well as information on where to send the sample.
Click the link to download and print the pdf form.
Complete the form, take your sample and send everything to the address provided.
Profile Soil Solutions Software (PS3)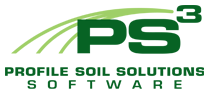 Our lab will run a complete soil analysis, which our agronomists and experts will review and use to create recommendations on how to correct any deficiencies that may exist. Test results and the recommended solutions will be emailed to you.
If you have questions or would like assistance in the process, please call 1-800-207-6457 between
8:00 a.m. and 5:00 p.m. CST.
For more information on soil sampling, check out this video.
Thank you for your interest.