Project Profile: Saving Labor, Saving Soil (Erosion Control: September 20, 2019)
With labor shortages reported across the country, contractors must increase efficiency to stay in the game.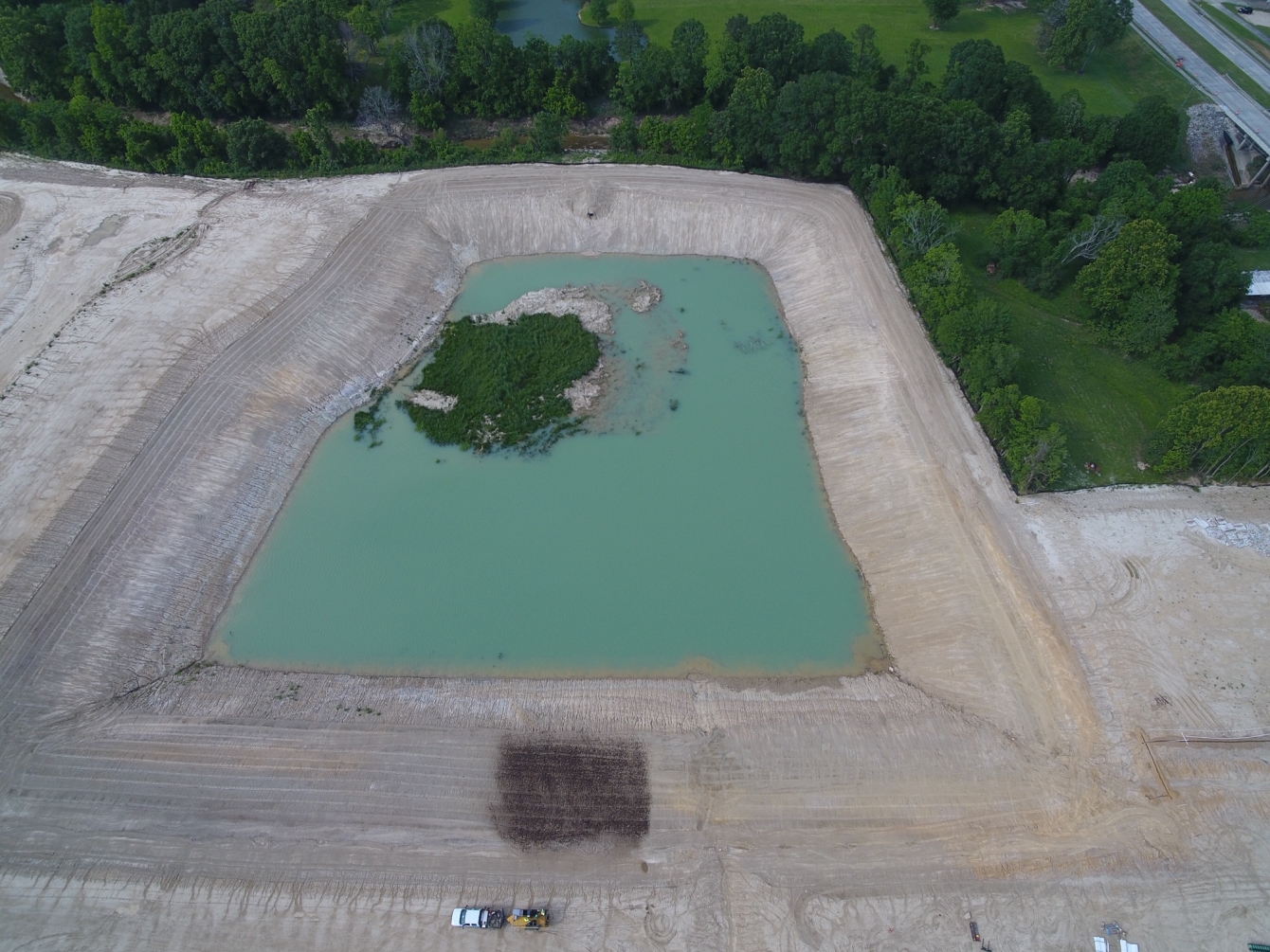 A good company is only as strong as the people behindit and the products they trust. But one of the biggest issues facing erosion control professionals right now is a labor shortage. Erosion control companies across the US are reporting that it's difficult to find skilled workers that can properly install an erosion control blanket or operate a hydroseeding machine.
That labor shortage is costing erosion control companies money. Not only are businesses taking longer to complete the current jobs they're working on because they have fewer workers, but many have also reported that they are turning down new work because they don't have the employees to staff additional job sites. Now more than ever, it's crucial for erosion control companies to consider their job site efficiency and best management practices.
Grass Master Maintenance and Landscaping did just that on a recent job site in Louisiana. After considering several different application options for a home reconstruction site, the team eventually chose to use new ProGanics DUAL Biotic Soil + Erosion Control. ProGanics DUAL is an environmentally friendly, hydraulically-applied one-step product designed to accelerate the development of depleted soils while simultaneously providing effective erosion protection in a single application.
This solution not only provided the results Grass Master needed, but it also saved the company time and money without sacrificing job site performance.
Trial and Error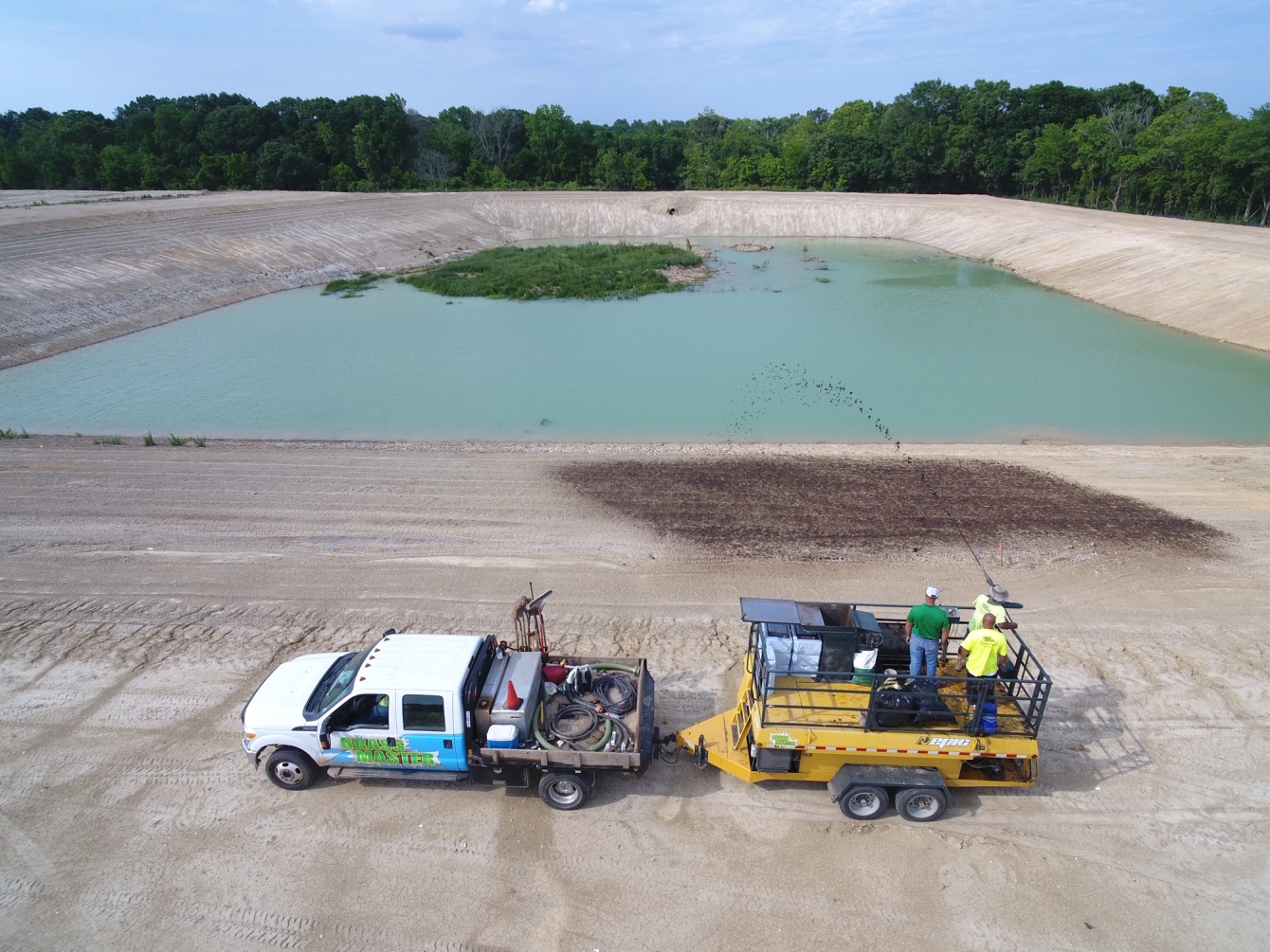 Grass Master was tasked with establishing vegetation on about 11 acres of a D.R. Horton home
construction site with several retention ponds. On previous job sites similar to this project, Grass Master brought in compost in an attempt to improve soil conditions and establish vegetation. Grass Master spread the compost over the slopes, applied seed and fertilizer with a hydroseeder, and then installed single-net straw matting in order to hold the seed, fertilizer, and compost in place until germination could occur.
However, in this case, that solution didn't prove to be a viable one. When storms moved into the area, the rain washed away the seed and soil, despite the efforts of the straw matting. Each time it rained, more soil would wash away, leaving bare spots along the slopes. In the end, vegetation wasn't establishing as well as the team would have liked.
"We knew we were going to have issues on this site with that solution because blowing the compost with the blanket over it was failing on much easier projects," says Ben Dutruch, owner of Grass Master Maintenance and Landscaping. "So, if we were going to try to use it there, we knew it would fail."
That's when Grass Master began looking for an alternative and partnered with Profile Products consultant, Robert Cobb of Earth and Turf Reps, to develop a solution that would not only amend the soil but also hold everything in place until vegetation could establish—even through a Louisiana rainstorm. After visiting the project site, Profile and Grass Master came up with a simple and effective solution.
The 2-in-1 Solution
First, the team took a soil test to determine what amendments, if any, were needed in order to create optimal soil conditions. Soil testing is crucial to the success of revegetation projects because without a healthy foundation of hospitable soil, the chances of establishing and sustaining vegetation are dramatically reduced.
Results of the soil test showed that the topsoil on site was acidic (a pH of less than 6) and had very low levels of organic matter (less than 1%). Based on these results, Grass Master purchased Profile's ProGanics DUAL Biotic Soil + Erosion Control from GroGreen Solutions in Georgia to test on several acres of the project site. ProGanics DUAL combines the properties of Biotic Soil Media (BSM) to ignite the soil-building nutrient cycle with the erosion control protection at the level of a Bonded Fiber Matrix (BFM). ProGanics DUAL is designed for project sites with poor soil conditions, including those with low organic matter content; low to moderate erosion potential, including slopes up to 2H:1V; limited access where multiple applications add significant cost; and larger projects where efficiency is paramount for contractors.
"Based on the site parameters, this was the perfect project for ProGanics DUAL," says Cobb. "They were having such poor results with the compost and straw matting and they needed answers. I brought DUAL to the table and they agreed to demo with it to see if they could get better results. I was confident DUAL could give them that solution."
On May 1, 2019, Grass Master used a hydroseeder to apply ProGanics DUAL at 5,000 pounds per acre. Because the soil was slightly acidic, Grass Master also mixed NeutraLime Dry into the hydroseeder at 40 pounds per acre. NeutraLime Dry balances soil pH in seven to 10 days after application, ultimately improving nutrient uptake and enhancing plant establishment. Grass Master also included BioPrime in the mix at 160 pounds per acre. BioPrime is a biostimulant that improves long-term plant vitality with slow-release nitrogen, seaweed extract, humic acid, and endomycorrhizae. This formulation promotes the delivery of micro- and macronutrients, reduces plant stress, and feeds young establishing plants for up to nine months. Finally, Grass Master applied Hulled Bermuda seed at 50 pounds per acre and a 19-19-19 fertilizer at 600 pounds per acre. Selecting the correct seed and fertilizer is also paramount to project success.
By using a one-step product, Dutruch says he was able to efficiently apply the soil amendment and erosion control product in less time and at a lower cost compared to employing other solutions. Initially, his team was trying to find a more cost-effective way of completing the project while still achieving the desired results. He says in the past, the team had applied separate erosion control and biotic soil products, but at times, that could be outside of the project owner's desired price range.
"We were having to spray ProGanics and an erosion control product, so we were doing a double application by having to do the ProGanics and then cover it with erosion control," says Dutruch. "So, it was about twice the application costs, twice the manpower, twice the water use, twice the machine hours."
While his team had to apply ProGanics DUAL at a higher application rate than what is typically used for a single BSM or BFM, it was still a lower rate than using the two products separately. ProGanics DUAL is high loading at a rate of 75 pounds per 100 gallons of water, also helping speed up the process.
"You have to put a little more down per acre with the DUAL, but it's a one-time application," he says. "You get the benefits of the ProGanics and the benefits of theerosion control fibers as well. So, we were able to work that into our price range for what they were willing to spend with a product that actually worked, rather than trying to blow compost and covering with erosion blankets, which hasn't worked well in the past."
This solution also allowed Grass Master to cut down on their labor. Grass Master estimates that a compost/straw matting application typically requires six to eight people and numerous pieces of equipment to spread the compost, apply the seed and fertilizer, and properly install the matting. ProGanics DUAL can be applied with as few as two to three people from a hydroseeder. At a time when labor is hard to come by, Dutruch says this was extremely important.
"By being able to cut our application time to a little more than half the time, we were able to move to the next job quicker," says Dutruch. "At the end of the day, production is where we need to be. We need to be spraying as much as possible on a daily basis."
Surviving the Rains
Dutruch says the application went smoothly, and the ProGanics DUAL was easier to spray than he initially thought. But while the application went well, the real test would be if the product could hold the seed and soil in place better than the original straw blanket application when placed under environmental stress.
Three days later, ProGanics DUAL had the chance to show its strength. Baton Rouge received 3 inches of rain in one afternoon and 6 inches of rain total—a powerful enough rainstorm that the retention pond rose from what Dutruch estimates was 5 feet deep to 15 feet deep. The water level rose to above the level of where the ProGanics DUAL was applied.
Some of the team were worried that the product may have washed away. However, in follow up inspections, Grass Master found ProGanics DUAL had done its job. The seed and soil stayed in place on over 90% of the project and only small touch-ups were needed to reinforce the site. Throughout the month of May, the site received a total of 10 inches of rainfall. But despite the rain, the ProGanics DUAL remained in place and allowed the seed to begin germinating.
"We had two to three back-to-back heavy rainstorms that came in and filled the pond up over the top of capacity," says Dutruch. "Where we sprayed the product to the crest, all the way up to the top of the banks, we had very minimal erosion throughout there. It performed very, very well."
In follow up inspections on May 29, less than one month after application, the site had lush vegetation along the entire slope. The grass grew in tall and thick, with established root systems. Because of the success Grass Master and D.R. Horton had on the smaller portion of the project, the team chose to apply ProGanics DUAL to finish the entire site—a total of 11 acres. Grass Master and D.R. Horton also ordered more of the product to use on other D.R. Horton sites in the area.
"The results were great," says Dutruch. "We were very happy with it and the customer has been very happy with it. We still have four or five more ponds to do on that site and we plan to keep using ProGanics DUAL."
As erosion control companies continue to battle through labor shortages, it's now more important than ever for business leaders to evaluate their best practices and determine ways to efficiently and effectively complete projects. Emerging hydraulically applied innovations allow contractors to switch out old, time-consuming technologies that require trucking in topsoil and compost or installing rolled erosion control blankets and replace them with advancements like ProGanics DUAL that provide proven results with less labor. Hydraulically applied products work as well as or better than old technologies without the extra time and manpower. Contractors that switch to hydraulic solutions will find they can more easily navigate this labor shortage while making a profit.
Original article written by Adam Dibble and J. Wesley Martin for Erosion Control Magazine. View the online version.