Green Design Engineering
Improving the environment through earth-friendly erosion control.

Green Design Engineering™ is a holistic approach combining agronomic and engineering expertise with advanced technologies to produce a broad array of cost-effective and earth-friendly solutions. Even before Profile's products are utilized, Green Design Engineering improves the natural environment. Through the years, Profile Products* has recycled over 5 billion pounds of wood and paper, removing it from the waste stream and returning it to the natural environment.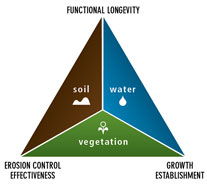 Profile's Green Design Triangle illustrates a fundamental component of Green Design Engineering that integrates the three primary natural variables: soil, water and vegetation—with the three pillars of product performance—erosion control effectiveness, growth establishment and functional longevity. To obtain an optimal solution of sustainable vegetation, designers must account for these natural variables while selecting products with the proper balance of performance characteristics to achieve project success, particularly when confronted with harsh soil conditions and severe slopes.
By assuring reliable and more successful erosion control through faster and denser vegetation establishment, Green Design Engineering benefits everyone through:
Affordably achieving and maintaining NPDES Phase II compliance
Eliminating callbacks and "do-overs" for improved ROI
Meeting current and proposed EPA protocols to ensure the safety of aquatic and terrestrial life
Contributing to LEED credits
Keeping golf course construction projects on track
The result of Green Design Engineering is sustainable erosion control, even under harsh soil conditions and on severe slopes and channels. This serves as added peace of mind that every site keeps soil and sediment in place—while restoring or creating a natural landscape that's more aesthetically pleasing and more ecologically productive. Through Green Design Engineering, Profile® is the industry's true "green" solutions provider, delivering first-time, cost-effective and long-term success.
*PROFILE Products LLC, including all subsidiaries, predecessors and acquired companies.