Vegetative Establishment Blankets

Futerra blankets are head of the class.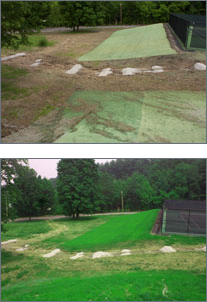 Futerra® blankets have been proven to deliver the fastest germination and highest effectiveness rating when compared to traditional straw and excelsior blankets. They more intimately bond to soil to prevent seed migration and sediment loss for up to 12 months. They weigh much less and install with fewer man-hours per square yard. And, as you would expect from Green Design Engineering™, Futerra blankets are more earth-friendly; fully photo and biodegradable and safe for wildlife.