Futerra EnviroNet
Futerra EnviroNet:  Designed for nature.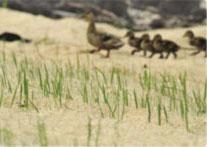 Futerra® EnviroNet™ takes advantage of advanced Futerra® technology, reinforced with a quickly degrading, rectangular netting designed to minimize wildlife entanglement and improve site safety. EnviroNet is created for slopes and environmentally sensitive sites where windy conditions and/or higher levels of installation stress may be encountered.
EnviroNet is more aesthetically pleasing and easier to install than traditional stitch-bonded straw, and coconut and excelsior blankets. Plus, it provides 99.9% erosion control effectiveness.