Greens
Enhance root zones where your course needs it most.
Profile Golf's premier golf course solutions improve growing conditions on greens, reduce maintenance and input costs while supporting a longer surface lifespan.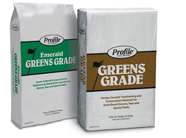 Our key greens products include:

Profile Porous Ceramic (PPC) Greens Grade
This formula is a superintendent's go-to source for increasing water, nutrient and oxygen-holding capacity. It delays the onset of drought stress while still providing superior drainage.

In addition, University research at Penn State, Iowa State, University of Florida, and other distinguished institutions, demonstrates a dramatic reduction or elimination of Localized Dry Spots (LDS), a common source of frustration for course superintendents.
Aqua-pHix
This scientifically-formulated solution safely and quickly lowers pH and loosens soil for greater water infiltration and healthier, thicker turf. Aqua pHix:
Reduces unwanted salts and bicarbonate in the soil
Minimizes fertilizer leaching or runoff
Is safe to touch and non-corrosive to spray
Are your greens in need of renovation? Contact Profile Golf for an expert analysis to make your greens better than ever!