Advanced Fiber Matrices

Higher-performing, cost-efficient hydraulic mulches.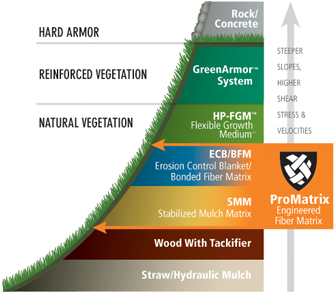 Profile® has a proven reputation for developing industry-changing reinforced fiber mulch technologies in a wide range of HECPs. In addition to the industry's most advanced technology in the spectrum of hydraulic mulch—Flexible Growth Medium™ (FGM™)—Profile also offers these Reinforced Fiber Matrices that provide outstanding erosion control and vegetative establishment to meet a broad range of site and budget needs.
Engineered Fiber Matrix™ (EFM)—The highest-loading formulation with BFM performance.
Bonded Fiber Matrix (BFM)—An ideal choice for difficult terrain and extended longevity.
Hydro-Blanket® BFM is proven to outperform most other types of hydraulically applied mulch and ALL erosion control blankets.
Stabilized Mulch Matrix (SMM)—The right solution for temporary soil stabilization on sites requiring greater performance than wood with tackifier.
Terra-Matrix™ SMM offers a clearly superior solution to single-sided rolled erosion control blankets to fullfill the need for temporary soil stabilization in construction areas or work sites.