Hydro-Blanket Bonded Fiber Matrix
Like a blanket in a tank—only better.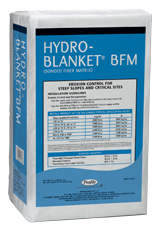 Hydro-Blanket® Bonded Fiber Matrix (BFM) sprays on as mulch, but dries to form a breathable blanket that bonds more completely with the soil, more effectively prevents erosion, and saves time and money compared to erosion control blankets as well as other BFMs.
Only BFM to combine Thermally Refined® wood fiber and multi-dimensional tackifiers for greater water-holding capacity, more complete germination and faster vegetation establishment
Proven to control erosion more completely than other BFMs
Anchors intimately to the soil through proprietary cross-linked, hydro-colloidal tackifiers and activators
Completely biodegrades and is non-toxic, like all Green Design Engineering™ products
Compared to erosion control blankets, Hydro-Blanket:

Faster, safer and easier to apply than rolled blankets
Eliminates staples and stakes; tenting and rilling
Eliminates extensive and more costly site preparation
Related Products
Flexterra High Performance-Flexible Growth Medium
Featured

Patented Flexterra® High Performance-Flexible Growth Medium™ (HP-FGM™)—proven to surpass all hydraulically applied mulch products and turf establishment blankets.
Read More
The Best Granular Mulch to Quickly and Easily Establish Vegetation.

Ideal for small hydroseeders or broadcast application, Seed Aide CoverGrow helps grass start fast.
Read More