Terra-Matrix™ Stabilized Mulch Matrix (SMM)
Cost-effective soil stabilization on active construction and building sites.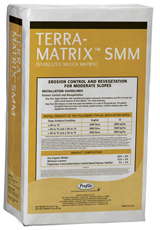 More stringent standards of the Clean Water Act have made it essential for site managers to have low-cost yet effective methods of preventing erosion and sediment loss on all sites where soil has been disturbed. Introduced in the early 2000's, Terra-Matrix™ has proven to provide superior performance for up to 6 months on pads and slopes, from flat to a grade of 2.5H:1V.
Terra-Matrix SMM is:
Pre-blended with a combination of Thermally Refined® wood fibers, cross-linked tackifiers and activators to anchor the fiber matrix firmly to the soil surface
Hydraulically applied and able to prevent polymer leaching
Designed to stand up to multiple rainfall events for reliable erosion protection for up to 6 months
The result of Green Design Engineering™
Profile® also produces EcoMatrix™ SMM.