Here's the Proof
Only Profile® mulches make you money across your entire project
Learn 5 Ways to Make Your Business More Profitable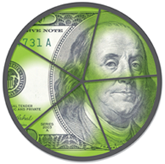 Reduce Installation Costs
Eliminate Callbacks
Maximize Water Use
Get Paid Faster
Protect the Environment
You make money when:
Installation goes smoothly and you maximize coverage per bale of product applied
Sites are protected from erosion
Germination and seeding development is accelerated to achieve required vegetation establishment
Reducing callbacks will save you money from not having to do the work again

Product to product, across all categories, Profile's comprehensive line of cost-effective, earth-friendly products have the best overall performance which reduces your cost, making you money, and we do the third-party testing to prove it.
Reduce Installation Costs - cover more ground per bag.
No fine grading or extensive soil preparation needed with hydraulic application
Featuring Thermally Refined® wood fibers, Profile® mulches mix more easily and completely in the tank, and stay in suspension longer for smoother and longer shooting
Highest yield means you cover more area per bag:
Yield = Mass per Area x Thickness x %Ground Cover
Mass/area verified by ASTM D6566
Thickness verified by ASTM D6525
Ground cover verified by ASTM D6567
Eliminate Callbacks - best-in-class protection means fewer return visits per project.
Highest categorical erosion control effectiveness ensures your soil and seed stays put. Erosion Control Effectiveness verified by Utah Water Research Laboratory large scale slope rainfall testing protocol.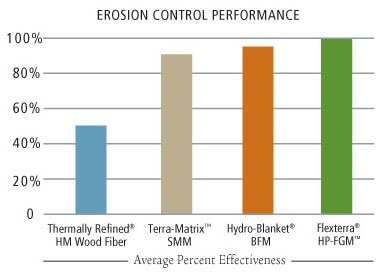 Greatest functional longevity makes certain the protection stays in place until vegetation establishes. Functional Longevity verified by ASTM D5338.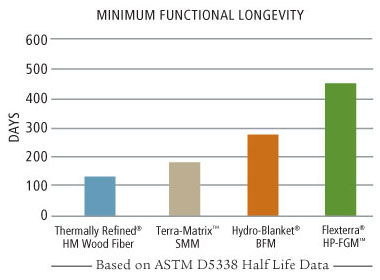 Best categorical growth establishment is the fastest way to sustainable vegetation, the optimal form of erosion control. Growth Establishment verified by ASTM D7322.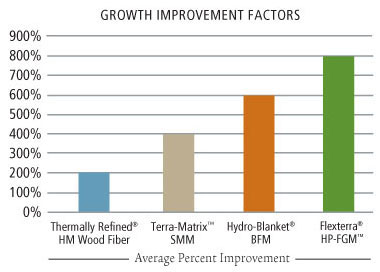 Maximize Water Use - industry's highest water-holding capacity nurtures plant development.
Highest-in-class water-holding capacities as verified by ASTM D7367

Retain the most water during application for smooth application
Absorb, retain and release rainfall or irrigation over time
Thermally Refined wood fibers have the highest surface area and form a matrix to contain water
Longer functional longevity means the product stays in place and functioning until vegetation takes over
Get Paid Faster - faster establishment leads to faster compliance, faster project sign off and a faster paycheck.
Optimizing the combination of erosion control, vegetative establishment and functional longevity guarantees fast plant establishment with maximum cover and biomass
Quickly achieve sustainable vegetation to satisfy your project's compliance requirements
Better erosion control reduces the chances of re-working the site a second or third time
Protect the Environment - proven safe for all sites.
100% biodegradable as verified by ASTM D5338
100% recycled wood fibers as verified by ISO 14021
Phyto-sanitized and sterilized wood fibers, heat treated to > 380° F
100% non-toxic as verified by EPA 2021.0 testing
Greatly reduce turbidity values to help comply with  EPA Effluent Limitation Guidelines
No nets, threads or staples to endanger wildlife

For specific questions or details for specifications, contact us.