ProGanics Biotic Soil Media Gets Denuded Site Off to a Great Start
---
Forced into foreclosure, this 2.7-acre home development site sat abandoned in rural Alabama near Tallassee. Untouched since 2009, it didn't go unnoticed by the Alabama Department of Environmental Management (ADEM), which eventually pressed its owner to keep the site from washing away.

The process started with soil testing, directed by Marc S. Theisen, vice president of business development and engineered products for Profile Products, and expedited online via Profile's Soil Solution Software (PS3). The analysis indicated the site would be extremely inhospitable to effective vegetative cover.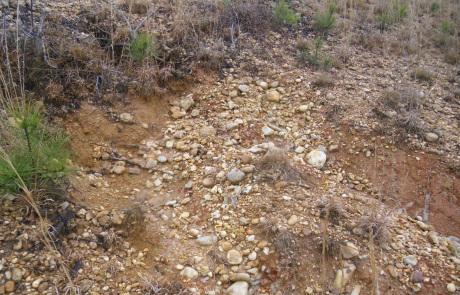 ProGanics™ Biotic Soil Media™ (BSM™), the world's most advanced Engineered Soil Media (ESM™), was an integral element of a comprehensive solution that also included ProPlus® Prescriptive Agronomic Formulations NeutraLime™, BioPrime™ and JumpStart™. In addition, ProMatrix™ Engineered Fiber Matrix™ (EFM™), wheat straw mulch and Tornado Tack™ ST-1000 (to anchor the straw) were employed as the erosion control components.
The foundation for a quick, cost-efficient start was established by ProGanics which was applied on March 25.
"It's almost crazy to say that after one month, we achieved 100% stabilization," said Hunter Bruce, P.E., owner of SpreadRite, LLC, and the contractor tabbed for the job. "There's no way this site would be growing the way it is so far without ProGanics."

JUNE PROJECT UPDATE
Seeing is believing. After the fast start in April, this once-forsaken site is still growing strong. Just take a look!

Bruce observed, "If this job would have happened before ProGanics, we would have trucked dirt in, and, good, clean top soil can be expensive and hard to come by."
Nearly 100 truckloads, each with 15-cubic yards of dirt, would have been required to cover the site with 4 inches (10 cm) of top soil.  Instead, ProGanics BSM delivered a combination of recycled Thermally Refined® bark and wood fibers with a proprietary blend of biopolymers, biochar, seaweed extract, humic acid, endomycorrhizae and other beneficial constituents. Bruce calculated that ProGanics reduced material cost by 40%, and instead of the 4-5 days of trucking in and spreading soil, it took just 1 day to apply ProGanics.
"ProGanics was faster, easier and more effective than trucking in soil; what more could you want?" Bruce added, "I already have interest in another, bigger job as a result of this site."
Of course, the ProGanics didn't act alone. The ProPlus NeutraLime quickly neutralized the soil pH, and BioPrime and JumpStart provided immediate and slow-release nutrients while augmenting the biological content of ProGanics. After its application, slopes were covered with ProMatrix EFM. Flatter areas were covered with wheat straw mulch and anchored in place with Profile Tornado Tack ST-1000.

JULY PROJECT UPDATE
July 28 and the site is completely grown in and established.
Use this ProGanics™ Calculator to discover the possible cost savings ProGanics BSM can offer on your next project when used in place of topsoil or compost (available in in Metric and Spanish). And then see how you can get a free trial of ProGanics today.
ONE YEAR LATER
The choice to select ProGanics on the site has really paid off. Now after one year, the results of better planning and proper product selection are obvious. Even with 80 inches of rainfall in 14 months, there has been no site erosion—not a single washout. Full grow-in has been achieved throughout, and the site looks great. Thanks to regular inspections following the application, the site will continue to thrive for years to come.
"ProGanics was faster, easier and more effective than trucking in soil; what more could you want?" said contractor Hunter Bruce, "I already have interest in another, bigger job as a result of this site."