ProGanics Recommended Applications & Rates
Replacement of costly or difficult to obtain topsoil
Replacement of compost, peat, manure and other sources of organic material
Development of soils with low organic matter (< 5%)
Rapid establishment and sustained growth of vegetation
Typically installed beneath HECPs and RECPs as growing media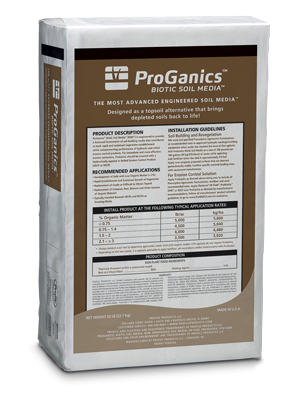 Typical Application Rates for ProGanics™

% Organic Matter

lb/ac

kg/ha

< 0.75

5,000

5,600

≥ 0.75 & < 1.5

4,500

5,040

≥ 1.5 & < 2.0

4,000

 4,480

≥  2.0 & < 5.0

 3,500

 3,920
Always conduct a soil test to determine agronomic needs. Soils with organic matter >5% typically do not require ProGanics. 
Depending on the test results, it is typically advisable to apply fertilizer, pH neutralizers and/or biostimulants with ProGanics.
ProGanics™ Calculator
Use the ProGanics™ Calculator to discover the possible cost savings ProGanics BSM can offer when used in place of Topsoil or Compost. Now available in Metric and Spanish.