Seed Aide Aero Application
See Seed Aide® Aero™ in action.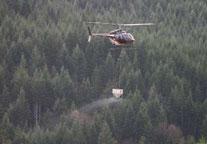 Seed Aide® Aero™ is a blend of pelletized recycled newsprint and clean wood shavings, a linear anionic soil flocculant, hydro-colloidal polymers and a seaweed extract biostimulant formulated into unique granules. These granules release the proprietary Seed Aide Aero formulation to help keep soil in place, increase moisture retention and promote vegetation establishment.