A Solar Farm Soils Solution (Stormwater: Aug 2022)
Across the United States, solar farms are popping up at a quick rate. According to the Solar Energy Industries Association, solar has experienced an average annual growth rate of 33 percent.
However, with the growth of the solar market, there's also an unfortunate side effect — the number of sites being fined for sediment runoff, wetland damages, or other environmental issues is also growing.
Stormwater and erosion control professionals have a massive opportunity to not only grow their business with this booming market, but to make a difference on sites to ensure these violations stop happening.
By employing emerging and advanced technologies, like biotic soil media or hydraulically applied erosion control products, contractors can do their part to help solar farm owners achieve regulatory compliance and sustain site integrity.
When approaching a solar project, there are several best management practices for erosion control professionals to consider.
Survey the Land — Above and Below Ground
When tackling any revegetation project, erosion control professionals should first get a lay of the land to fully understand the parameters they're working with. Above ground, that means learning the topography, estimating how construction of the solar panels may disturb the land or change how the stormwater will behave in an area, or even identifying areas of potential sediment loss.
In many cases, solar panels are being built on farmland that's never had to comply with the level of regulations that a solar farm will need to meet. By identifying any problem areas ahead of time, contractors can be proactive in their solutions and prevent the runoff issues many sites are currently facing.
"Anytime we move or disturb the soil, even though we try to do it as little as possible, we have the chance to create some major issues down the road when it actually comes time to get vegetation, close out the site, and to turn all the electronics on," says Stephen MacShane, business development manager specializing in solar sites at Profile Products. "By taking that critical eye to these sites early on and the unique soil conditions, we can better understand and disturb the land as little as possible."
It's important to know what's going on with the soil. Contractors can conduct a soil test to get a better picture of the soil fertility and composition. Often, these solar sites may not be built on prime farmland ­— this soil can have significant deficiencies, such as poor organic matter or a low pH. By knowing this information ahead of the application, contractors can identify any soil amendments they may need to make that could help build a more favorable growth environment.
"The number one tip I have when trying to establish vegetation on solar sites is to do soil testing," says MacShane. "We're seeing a lot of maintenance and repair jobs because a contractor skipped this step. Take an approach to understand the soil on the site before it's too late [and] before it starts to create problems down the road for your project."
Have the Right Tools at the Ready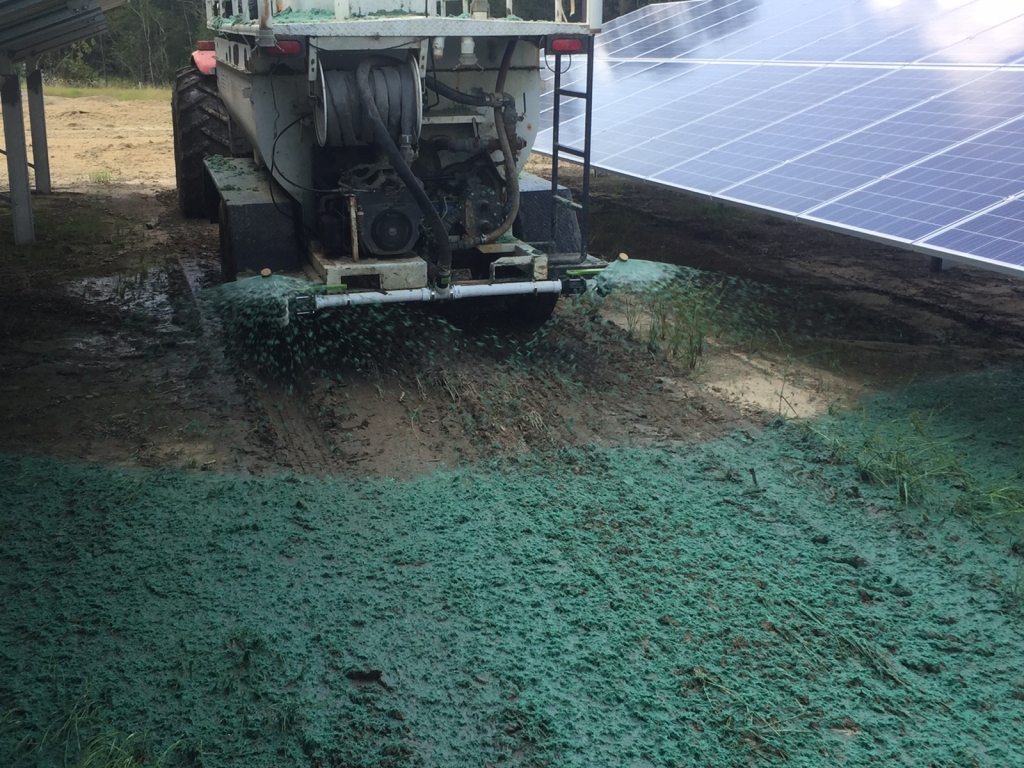 Hydroseeders can easily spread material in difficult to reach areas, including under solar panels.
Once contractors have a strong idea of what they're working with at a ground level, it's important to then select the tools that will get the job done right on the first try. While there are several technologies that have been used on solar sites like drill seeding or blown straw, hydroseeding has proven to be an advanced technology that meets the unique challenges that arise when working on these sites.
In many cases, contractors are called in to revegetate the land after the solar panels have already been installed. That can leave narrow pathways between panels, low-hanging wires, and a small space to get below the solar panels. A hydroseeder offers several options for application, including driving between the rows or pulling the hose off the truck and spraying between panels when there isn't room for larger equipment.
Additionally, a hydroseeder can apply several technologies in one pass. With one hydroseeding machine, contractors can apply biotic soil technologies, fertilizers, seeds, and erosion control protection. That's fewer pieces of equipment with the potential to drive over the soil, compound compaction, and decrease the chance of germination.
Hydroseeding can often be economical as well. While alternatives like trucking in compost or topsoil are viable, it can be costly and there's no guarantee on the quality of the material. Project owners would also have to bring in multiple truckloads of material, which can increase labor costs, and it's another piece of equipment driving through the farm, further compacting the soil. A similar idea holds true with blowing straw.
"Deploying straw means that first you put seed down, then you have to apply fertilizer separately. You have to blow the straw with a piece of equipment, and then you have to bring in another piece of equipment to either tack or crimp the straw," says MacShane. "That's potentially four pieces of equipment going around the same area and these panels compared to one piece of equipment [with hydroseeding]."
Know Your Deadlines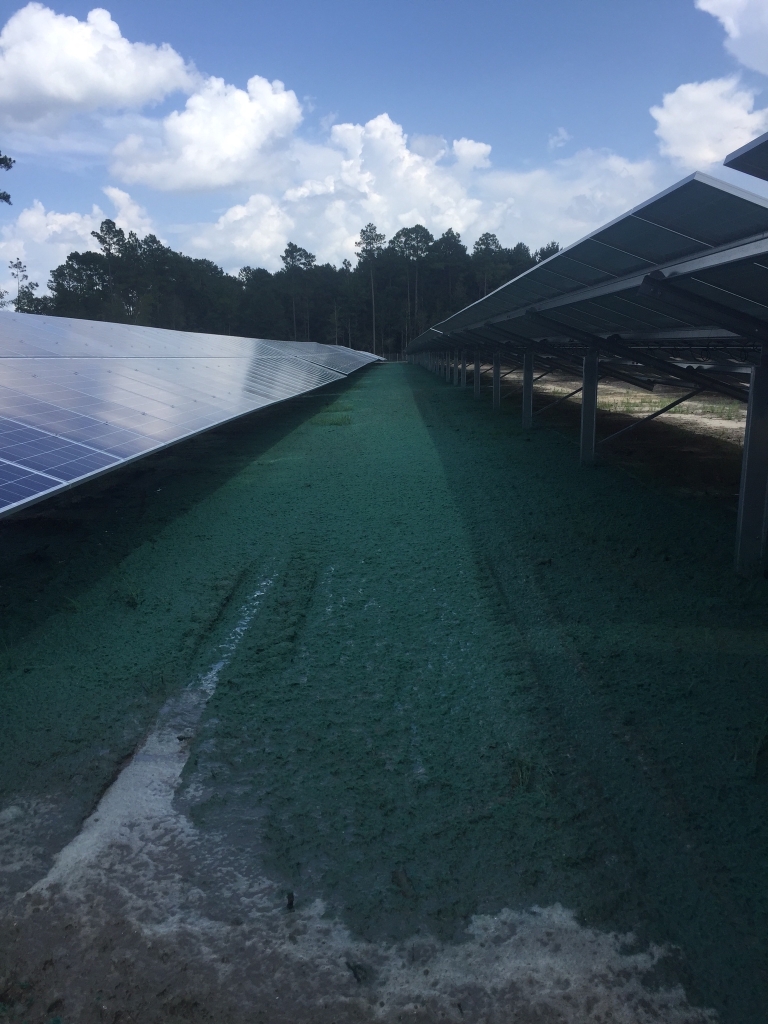 Erosion control product applied between panels on a solar farm.
Most solar sites have an installation window of about 12 months before the Commercial Operations Date (COD). Like other construction sites, these strict project deadlines often include revegetation. The timeline doesn't leave contractors with room for multiple attempts at seeding or the ability to change direction midway through a project.
This underscores the need to have a clear vision of project deadlines and to find the solution that's going to work the first time — which doesn't always mean the cheapest nor does it mean the most expensive options are the best. Finding the right tool for the job here is key.
"Hydroseeding is a very viable option to help close the gap in meeting some of those deadlines because we can address soil issues, erosion issues, and we can grow vegetation very quickly. These products can be installed quickly on some otherwise very tight timelines," says MacShane.
Putting It All Together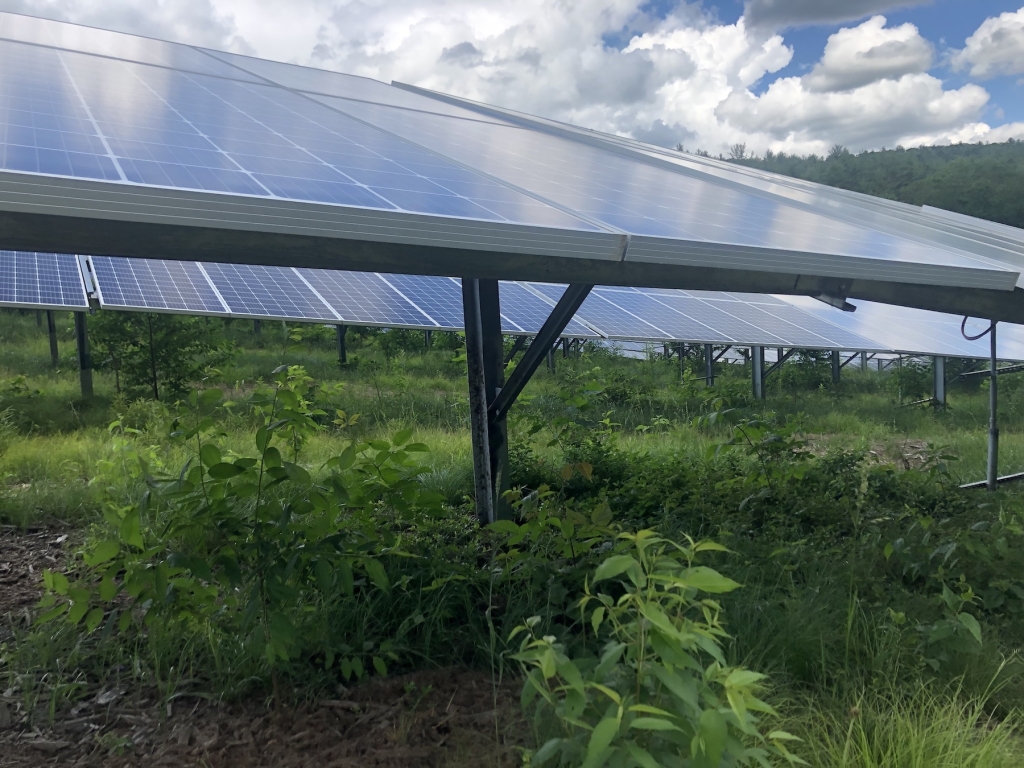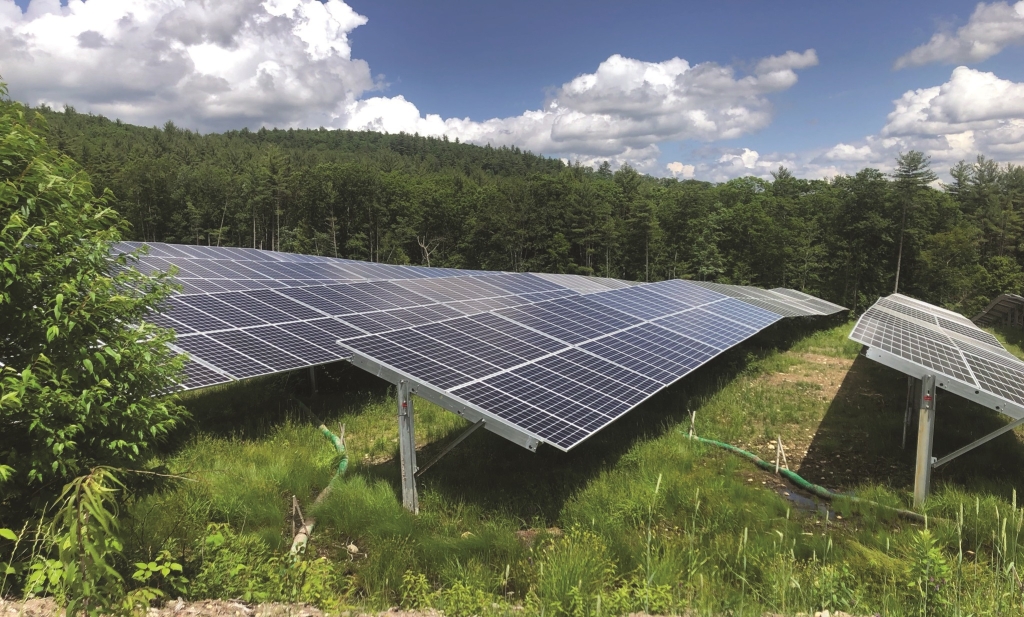 Results from hydroseeding on a Standard Solar project in Northern Massachusetts.
It's one thing to put all these ideas on paper, but it's another to show it in the real world. On a recent solar farm project in Northern Massachusetts, these practices were employed with great results.
The project owner needed to keep vegetative cover on 80 percent of the 77-acre solar farm. Prior to taking a soil test, the first attempts at vegetation by just spreading seed had failed.
Once a soil test was taken, it was clear why the original attempts didn't work: the results showed sandy soils and low organic matter at far less than 5 percent across the site. That soil test led to a new strategy to employ biotic soil technologies that could reintroduce the organic matter and kick-start the nutrient cycle. That also led to discussions about the site's topography and where additional erosion control protection would be needed to prevent sediment loss and runoff.
The contractor employed a combination of soil amendments and erosion control products across the site, including ProGanics® Biotic Soil Media, ProGanics® DUAL™ Biotic Soil Media + Erosion Control, and Flexterra® High Performance-Flexible Growth Medium®. On the steepest portions of the solar farm, ProGanics and Flexterra were applied at 3,500 pounds per acre to amend the soil and provide a high level of erosion control protection. On the flatter areas that still had potential for runoff issues, ProGanics DUAL was applied at 5,500 pounds per acre to provide both the soil amendment and erosion control protection of a bonded fiber matrix.
Within a few short months, this revegetation plan had already exceeded expectations. The project owner was able to easily meet the 80 percent grass coverage goal due to a solid plan that started from the soil up. The installation is proving to be a low-maintenance solution that's preventing any environmental issues and providing long-term compliance.
The solar market is no doubt going to be a lucrative one for the vegetation establishment and erosion control industry as more sites pop up across the nation. As contractors start to dive into the market, they can keep these strategies in mind to ensure site success.
Original article written by Andrew Yablonski and Adam Dibble for Stormwater Magazine. View the online version.