ProGanics vs Compost and Topsoil
Topsoil and bulk soil amendments (such as compost) are frequently specified and utilized on earth-moving projects, with little consideration given to material availability, consistency, possibility of contamination, installation cost, or the ability of the material to support vegetation long-term. Additionally, these materials are habitually specified to arbitrary depths with little scientific evidence or reasoning supporting the application. The use of these allegedly essential materials often leaves the site with varied and even inadequate vegetative results long after the exorbitant costs to purchase, deliver and apply them has been incurred.
Patent-pending ProGanics™ Biotic Soil Media™ (BSM™) has been designed as a topsoil and compost alternative that accelerates the development of depleted soils/substrates with low organic matter, low nutrient levels and limited biological activity. ProGanics is not a direct replacement for expensive topsoil, but provides an abundant source of organic matter and soil building components to quickly modify soil chemistry, initiate vegetative growth and buildup of the uppermost "O" and "A" soil horizons. See how ProGanics BSM is able to sustain vegetation on deficient soils in the "ProGanics Biotic Soil Media Video - Ignite the Nutrient Cycling Process":
So how does ProGanics compare in performance to commonly specified and applied Topsoil or compost? Click to view the 2019 white paper to review a triple rep, random block design trial comparing the qualitative and quantitative efficacy of various soil treatments including ProGanics Biotic Soil Media, STA Certified Compost, and a manufactured or "faux" Topsoil.
How much time and money can be saved with the application of ProGanics BSM? We will let you do the math with ProGanics BSM Cost and Savings Calculator. Simply enter project specific or common topsoil/compost material, hauling and application information to calculate the possible cost savings ProGanics BSM can offer when used in place of these materials.
Let's simplify it. ProGanics BSM offers the following benefits when compared to these outdated options: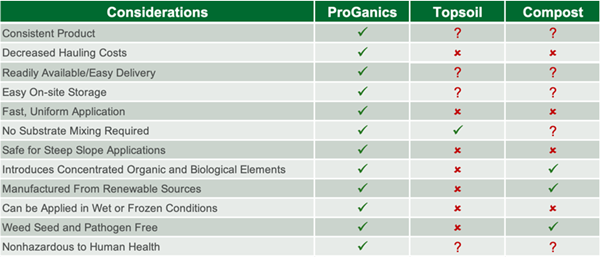 See how ProGanics BSM successfully replaced imported topsoil on a Southeast United States Mine Site in the video below:
It is easy to see that ProGanics offers the best and most cost effective solution to achieve the results you are looking for! If you need help with your project, or would like additional information, please contact us at Tech@ProfileProducts.com.