GreenArmor System
A revolutionary green alternative to hard armor.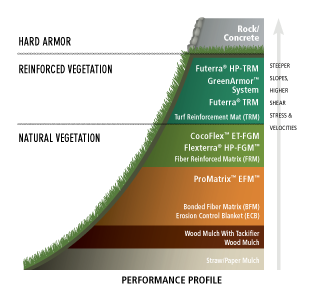 As the world's most effective Green Design Engineering™ alternative to hard armor, the GreenArmor® System offers a more aesthetically pleasing and environmentally superior means of protecting high-discharge waterways and steep slopes. You can learn about Keys to the System here. You will see that they bring together the most technologically advanced erosion control and revegetation products to provide:
30-50% less cost than hard armor
Twice the erosion resistance of natural vegetation
Higher-density turf
Unmatched factors of safety
Watch this video to see how GreenArmor was used to restore and reinforce slopes adjacent to Houston's Wortham Center—just in time to withstand Tropical Storm Imelda.
Read the entire report on Houston's Wortham Center Restoration Project and see why the GreenArmor System was an ideal "green" solution.